iPod Accessories - 09/29/2006
Eye-Theatre video glasses for iPod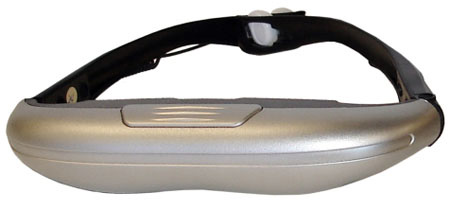 I've wanted to try a truly personal video system - forgot the clunky VR headsets of yesteryear - since I first saw one faked up on Blake's 7 in the late 1970s. Watching a movie on an iPod means holding the player up to your face for hours at a time. It would be so much better to clip on a pair of video specs, sit back and relax...

The Eye-Theatre comprises a chunky, sci-fi styled front piece - it's all silver and blue paint - with a pair of hinged, ear-rests that look not unlike the ones you find on those Oakley MP3 sunglasses. The earphones are on thin wires, partially coiled for greater elasticity, with the earpieces themselves cleverly docked into retainers at end of each arm - just push them up or down gently to release them.

In front of each eye is a lens. Behind each lens is a 320 x 240 LCD. The optics are aligned to ensure that when worn the two images coincide into a single one that's the equivalent of how a 50in TV looks when you're 2.5m away from it, the manufacturer claims. Maybe, but it's not much bigger than a PMP screen held a foot or so from your face.

The front section rests on your nose - comfortably, thanks to a rubber pad - and hard-fixed to the base of the glasses is the power and signal cable. The other end of this plugs into the dual-function battery and control unit. This black rectangular block is clunky and could sport a more effective design, but it fits comfortably enough in the hand. There's a on-off switch and a volume control. The input and output ports are both on one end, though they're completely different so no one's going to plug the input into the output and vice versa.

The fixed 500mAh battery's recharged via a USB cable - there's one in the box - but the battery end has a standard AC adaptor pin-out, so you could use a separate adaptor too. Input cables include a 5G iPod adaptor and a separate composite-video cable, though the latter's terminated in female connectors, so you may need to buy a male-to-male cable to connect the device up to DVD players, set-top boxes, games consoles and the like.

At 68g the EyeTheatre isn't heavy, I found, but some who tried it did feel it was a little too weighty. One thing you do have to watch are the arm hinges. One of the ones on the review unit broke while I was opening the arms out to put the Eye-Theatre on. So little pressure was applied, I suspect the plastic was already cracked, but the breakage revealed how thin is the plastic that connects the hinge to the main body of the Eye-Theatre. If you buy one of these, don't treat it roughly.

As I say, the Eye-Theatre's looks are a little too archly sci-fi, but there's no doubt the unit works as advertised. Connect it up to a 5G iPod - you'll need to set the player to send video to its AV port, built into the earphone socket - and there are your videos in all their stereo audio glory.

Source:
The Register
Back to ipodpalace.com iPod Accessories archive >>>
Please, let us know your opinion on our iPod surveys, it takes only a click!